Dear visitor
This website is not longer updated.
A news website is under construction,
it will be open SOON !
Meanwhile you can check a new website by European Rivers Network
> www.ern.org
and for information on the Loire River Basi and the action by SOS Loire Vivante :
> www.sosloirevivante.org
A selection of international RiverNews
03.12.16 : Albania : Lawsuit against hydropower project on the Vjosa has been filed Dam project on Europe's last wild river was intended to be realised without adequate environmental assessment or civic participation
01.09.16 : Chile : Five rivers, two in Patagonia, have just been spared from large dams
(source IR) The Chilean energy company Endesa cited "local opposition" as a major reason why they pulled out of the projects.
04.08.16 : Brazilian government cancels mega-dam on the Amazon's Tapajós River
Source: (International Rivers and AmazonWatch).
Brazil?s Federal Environmental Agency (IBAMA) announced the cancelation
of licensing for the polemic São Luiz do Tapajós mega-dam, the largest
hydroelectric project planned for the Amazon. More

24.07.16 : World Bank Suspends Support for Inga 3 Dam in the Congo (IR)
Source IR : On July 25, the World Bank suspended its support for the giant Inga 3 Dam in the Democratic Republic of Congo. What the World Bank once hailed as a ?transformational project? for the region has become the latest cautionary tale of the enormous pitfalls of mega-dams. More

10.07.16 : Successfull regionanl Big Jump Day in Europe. (Sourece ERN)
Over 160 events has been organised to protest for clean rivers.
14.03.16 : To day: March 14'th : International Day of action for Rivers
03.03.16 : Berta Càceres (Goldman Prize Winner) mudered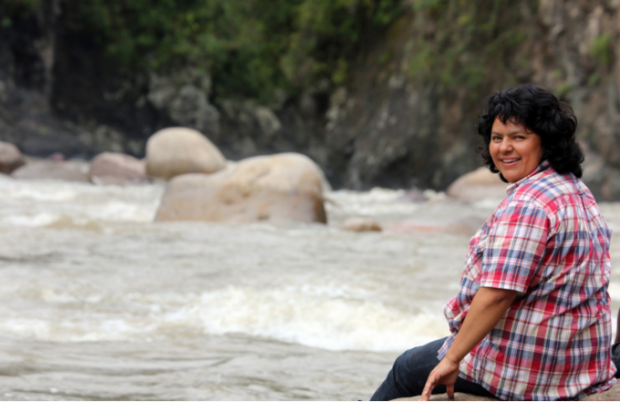 Berta Càceres - © International Rivers
- read the letter to the president of Hondouras sent by the Goldman Foundation and cosigned by 50 international NGOs.
- Participate in the online action : Tell Dam Builders to Pull Out of Agua Zarca Dam en Honduras