content
Dam decommissioning in France
and worldwide
to more RiveNet content ::
Information's on River basins, Projects
& Campaigns
from Danube via Loire, Narmada , Three Gorges to Wolga.....
Select in our worldwide list

RiverLink
addresses and website
RiverFax
one of our publications
About Rivers
Basics. What is a river, a living River?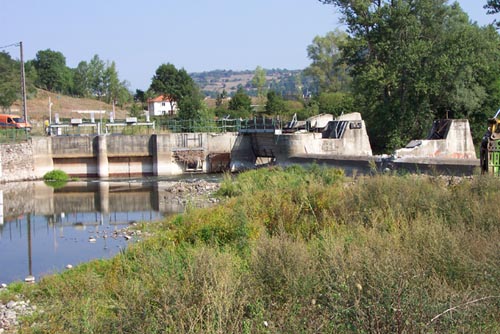 Summer 2003
Dam before dismantling
Photo : SOS Loire Vivante - ERN France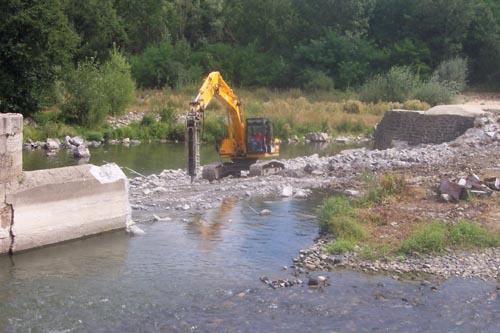 September 2003
Dismantling and restoring the site
Photo : SOS Loire Vivante - ERN France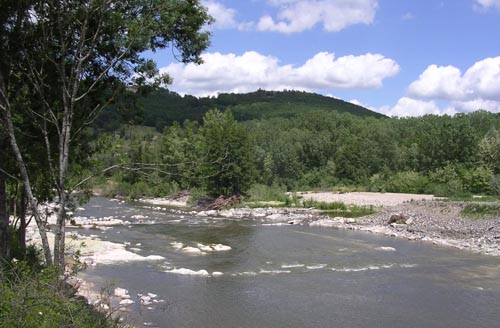 June 2004, Brives Charensac, France.
the same place, one year later
Photo : SOS Loire Vivante - ERN France






back to the Loire homepage




The Brives Charensac Dam (Haute Loire - 43)
During the fall 2003, the dam, part of the old hydropower plant of Brives-Charensac (5 km South-East from Puy en Velay) was dismantled.
This dam was located just upstream from the place where Loire and Gagne meet. As the site is quite active from a geomorphological point of view (there is a strong raving), the riverbed has been stabilized by building a concrete foundation, several ten meters long along the left bank of the tributary.
That building was totally dismantled. A canal, parallel to the Loire, that used to bring water to the plant located several hundreds meters downstream, was partially filled. The drain canal (downstream from the plant) was kept. To dismantle this dam was very symbolic : indeed this building marked the arrival of the electricity in the region of Puy en Velay at the end of the 19th century.
Short chronology
- 1886 : the dam and the plant were built
- 1946 : EDF is appointed to exploit the complex
- 1995 : end of the concession
- 1997 : the production is stopped
- 2000 : July, the plant is dismantled
- 2003 : September/October : dam's dismantling
Some figures
- dam's height : 2,5 à 3 meters
- waterfall's height : 6,80 meters
- dam's width : about 10 meters
- annual production : 1 GWh